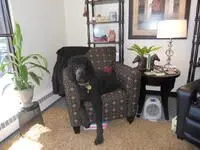 A TRIBUTE TO AN INCREDIBLE CANINE THERAPY DOG "TINKS"
Tinks the Therapy Dog retired from my practice in March of 2020 at age 13 after 11 years in practice with me. Tinks passed away peacefully at the beautiful age of 15. He is terribly missed by myself, his family and will never be forgotten by all those he met and shared time with as a Therapy Dog and a loving devoted member of our family.

He was a black Standard Poodle. Tink was named by my daughter as she always knew where he was because his collar had a bell. We then found out that the definition of Tink is a technique in knitting that one can undo a row of knitting one stitch at a time, in order to correct a mistake. We found this to be fitting to a therapy dog in a counseling setting as that is what we do, undo thoughts, feelings that do not work any longer, one at a time.
Tinks was certified with the AKC Canine Good Citizen Certification, Therapy Dog International (TDI) certification and a registered Emotional Support Dog (ESD). I have always had a dream to use a dog in a therapeutic setting and found Tinks for that reason when he was 12 weeks old. He had been trained by me, in obedience and was tested for safe consistent appropriate behavior.

Tinks was always eager to meet clients and if they welcome him he will stay till they ask him to go lay down. I do have clients that did not need Tinks as a part of their therapy and he will stay away in that case. I have found that often when someone comes to therapy opening up to a therapist one on one is a little intimidating and with Tinky, he was there to ease the transition that we often need for a successful therapeutic session. With Tink's help he was there to facilitate the opening of thoughts and feelings which naturally occur when the positive energy from a unconditionally loving animal is brought into the setting.

I had used Tinks with all ages and genders of clients, he was comfortable with them all and always enjoys meeting a new friend.
Like those that are newly retired, he was spending his time taking naps often, snacking on goodies all day, barking with dogs in the neighborhood, taking long walks with his sister's and just enjoying the good life
Job well done my sweet boy <3